Welcome back for day 2 of the Colfax Sewalong. Today we will be going over a few common fit adjustments that you may want to make, as well as transferring all markings from your pattern pieces to your fabric and cutting everything out. By the end of today we should be ready for sewing up our dress tomorrow. Make sure your fabric is washed, dried, and ironed so it's ready to go. I will be making two dresses with the sewalong (one for View A and one for View B). The fabrics that I am using for the dresses were designed by me and made through My Fabric Designs.
For View A I am using this pastel geometric print that I had made up in silk crinkle linen. I love the texture of the fabric and am really excited to see how it comes together. I think this dress will end up looking a little more expensive with the one fabric and silk component.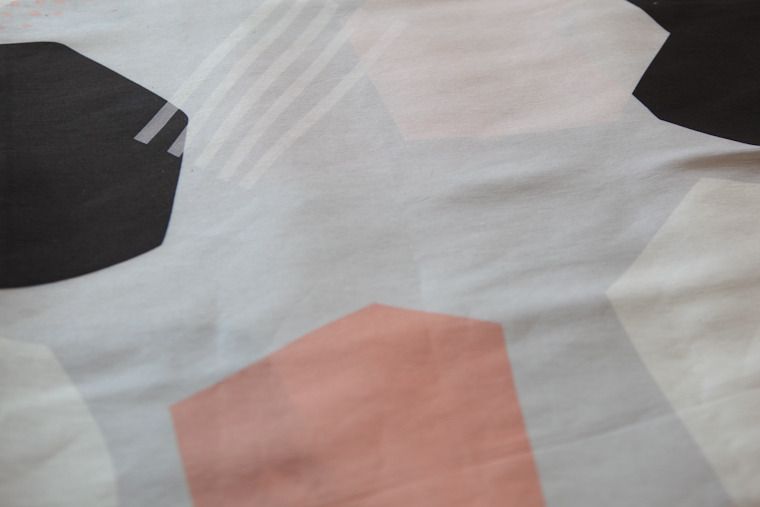 For View B I am using two coordinating blue / black graffiti type prints that I had made up in the faux linen slub. The fabric on the top will be the main fabric and the bottom one will be the contrast. I like how the two fabrics are different, but not complete opposites. I am looking at this dress being more of an everyday with sandals type of garment, but we will see.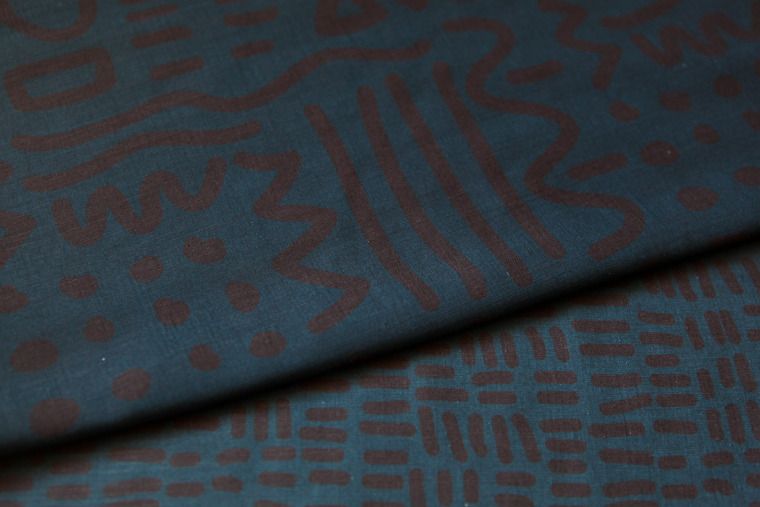 If you are sewing up View B with the pockets and your fabric is on the stiff or heavy side like mine, you may want to consider using a lighter weight fabric for your pocket pieces. I am going to use some cotton lawn from my stash. Otherwise the pockets can get a little heavy and cause some extra bulk in the hip section. This is totally up to you, it's just a little tip. It's also just a good way to save a bit of your nice fabric since the pockets are not visible.
LENGTHEN / SHORTEN
I think that the most common adjustment that most of you will want to make is to lengthen or shorten your dress. The pattern is drafted for someone who is 5'5″ tall and is designed to hit a couple of inches above the knee. One thing to think about is that not all of your height resides in the area covered by the dress. So for instance, I am 5'3″ which is a difference of 2″ from the model. I figure that the dress covers about half of my body, so I will shorten the pattern by 1″ total (not 2 inches like you might first think). You may be tempted to just add length to the bottom of the dress. Be aware that this will affect the fit and intended width of the dress so I recommend lengthening or shortening the dress on the indicated marking on the pattern. Also be aware that this will cause your pocket openings to move up or  down. This may be accurate if you are long or short torsoed, but you may want to adjust where those markings are if you are making View B and adjusting more than an inch or two. To begin, cut along the horizontal lengthen / shorten line on your pattern piece.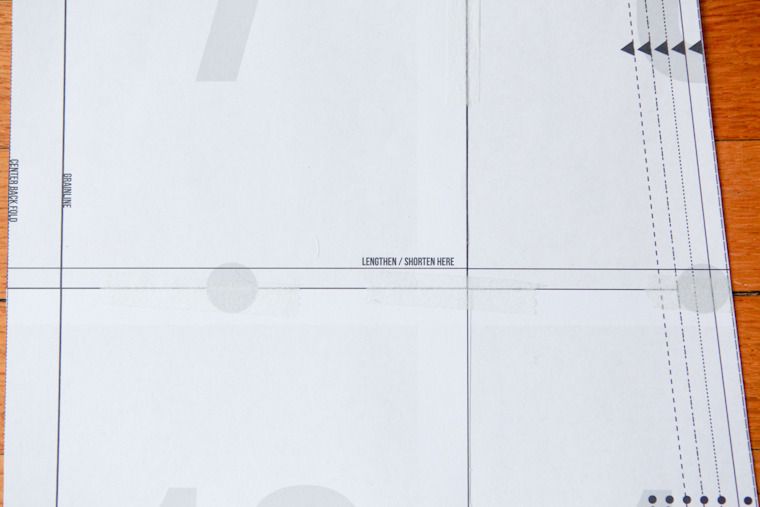 To lengthen, get another piece of paper and draw two parallel lines the width that you want to lengthen your pattern (I am doing 1″ here). Tape your pattern pieces to the paper, on either side of the lines you just drew. Make sure that the CF / CB fold line stays lined up on the fold side.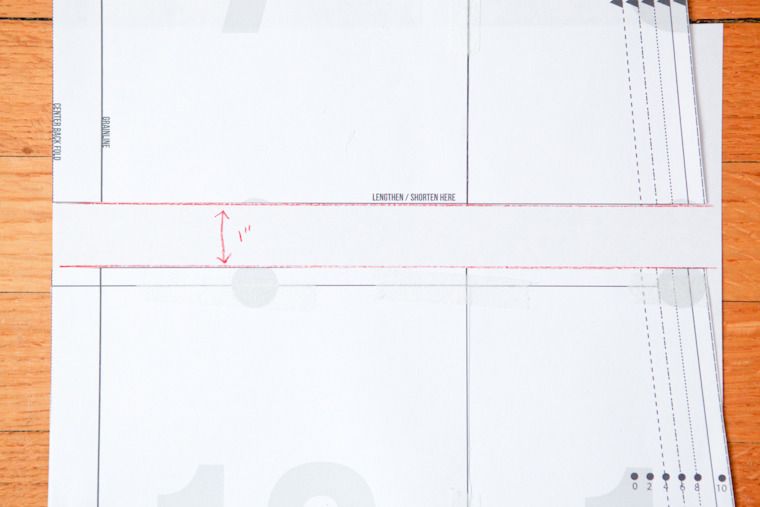 Use a straight edge to join the bottom and top sections on the side seam, creating a new, smooth line to connect them.
To Shorten, draw a horizontal line below the lengthen / shorten line on the bottom piece. It should be the same distance from the lengthen / shorten line as you want to shorten the dress (I am doing 1″ here).
Take your top section and tape the bottom edge on top of the bottom section so that it lines up with the line you just drew. Make sure you keep the CB / CF edge lined up.
Using a straight edge, redraw and trim the portion of the side seam that is no longer smooth because of the adjustment.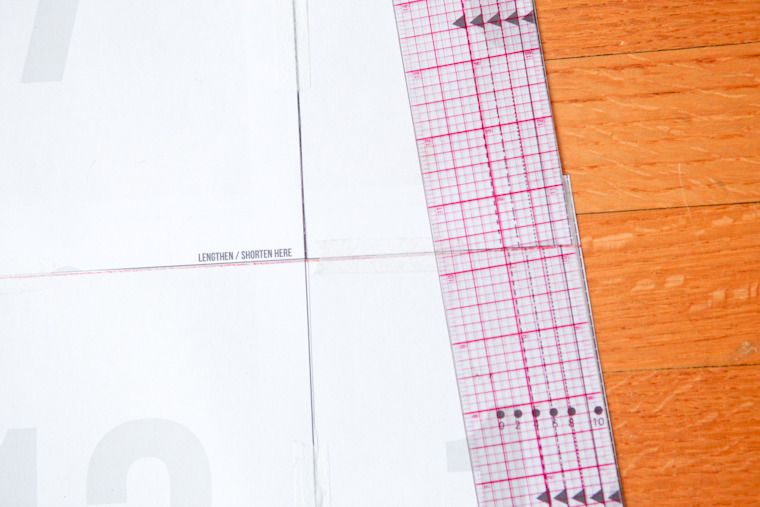 That's it. Super simple. Be sure to make the same adjustment on the front dress as you do on the back dress pattern pieces.
FULL BUST ADJUSTMENT
The Colfax dress is drafted for a C cup. My other patterns have been much more loose and forgiving when it comes to fit. Because the Colfax is more fitted in the bust area, I highly recommend doing an FBA if you wear a D cup or larger. Otherwise your dress will not only hike up in the front, but it will also pitch away from your body in the front, creating an unflattering silhouette. If you take your high bust measurement (right under your armpits and above the natural curve of your bust) and your full bust measurement (across the fullest part of your bust), the difference should be between 2″ and  3″ for a C cup. If the difference is less than that then you may want to consider a small bust adjustment (SBA). I won't be covering that in this sewalong because I have found this to be less of a pressing problem. My testers with smaller chests still had a pretty good fit with the dress sewn up as is. Also, there is always the option of wearing a more supportive bra to make up some of the difference. If the difference between your high and full bust adjustments is more than 3 inches, you are going to have more visible and unflattering fit issues. So, we will focus on that one today.
Imaginary measurements for our purposes today- High bust – 33″, Full Bust 37″ (difference of 4″)
To figure out what size you should cut for your pattern, take your high bust adjustment and add 3 inches to it (pretending you have a C cup). This would make my imaginary bust measurement of 36″ which puts me in the size 8 and needing an extra inch of bust room across the front for a good fit.
Let's make a few markings on our front dress pattern to get started.
First, find your bust apex. To do this draw a line through the middle of your dart, starting at the side seam, and continue out 1 1/2″ past the dart point (We will call this line A). This is your apex. Mark with a dot (marked B).
Now, draw another line from the armhole (about half way through) to your apex (this line is marked C), and then down to the bottom of your dress, staying parallel to the grainline ( mark it as D).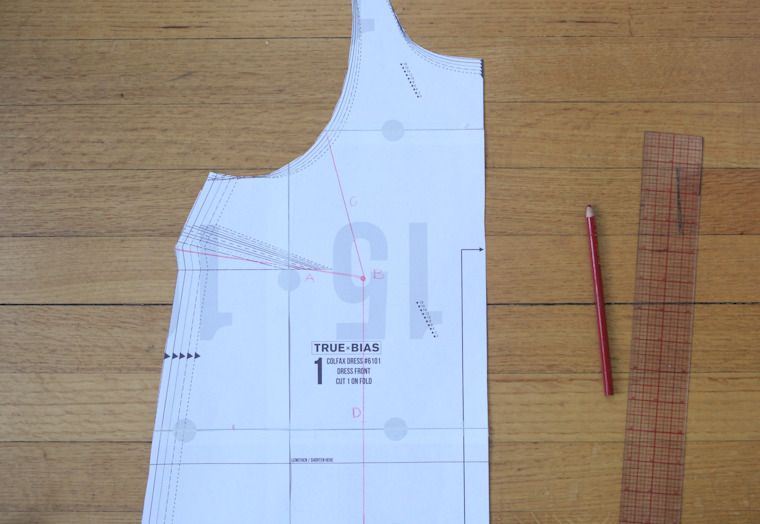 Lastly, darken the lengthen / shorten line between the CF fold and line D (we will call it E).
Starting at the bottom of your dress, cut line D up to the apex (B), pivot and continue cutting to the armhole along line C, keeping a bit connected at the armhole to serve as a hinge.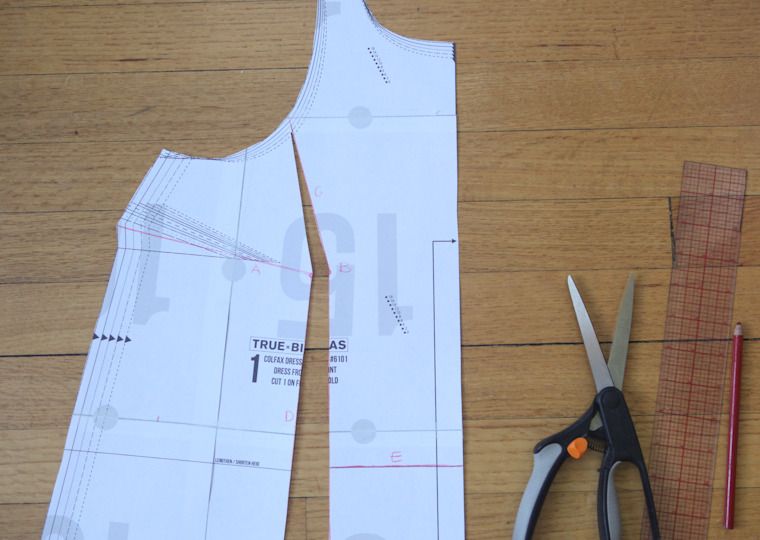 Cut line E.
Take another large piece of paper and draw one long vertical line. Draw another line, parallel to the first, and draw it half of the distance your want to add to your bust measurement. So for instance, I need to add one whole inch to the front of my bodice at the bust. Since I am working with a pattern piece that is cut on the fold, I only need to add 1/2″ to the pattern piece.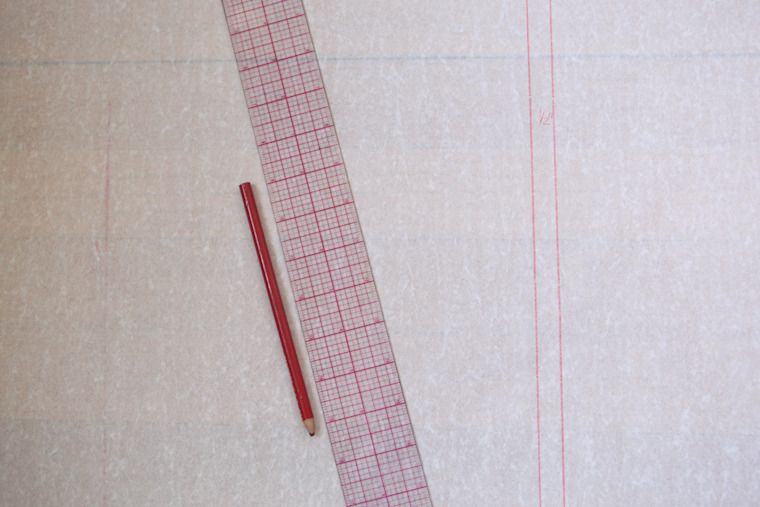 Tape the right side of line D (top section) along the right line on the piece of paper.
Cut line A on your pattern piece, keeping a small piece connected at the apex (B) to act as a hinge. Line the apex (B) and the left side of line D along the second line and tape. There should now be a 1/2″ (or whatever your measurement is) gap between the two sides of line D.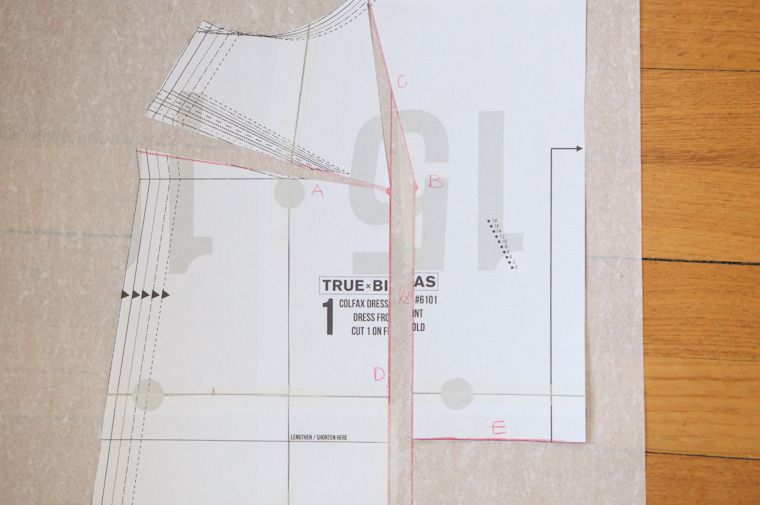 Tape the bottom piece of Line E so that it lines up with the lengthen / shorten line on the left section of the pattern. For me there is only an 1/8″ gap, but for a larger FBA it would be much more noticeable.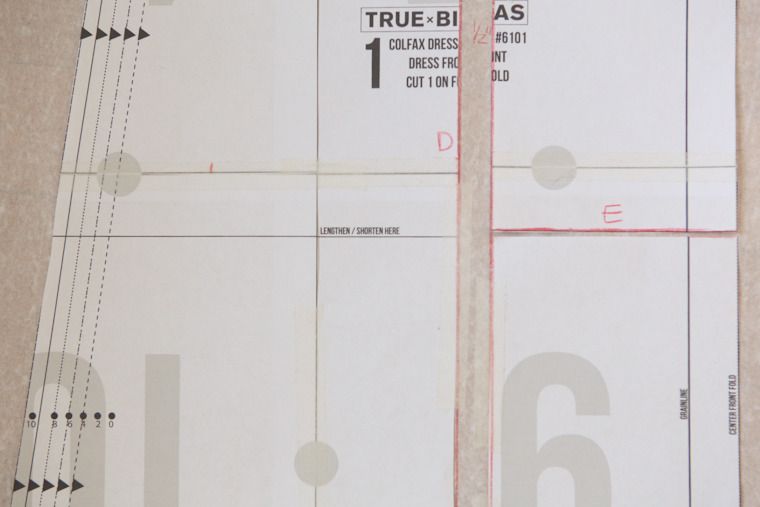 Mark a small marking in the middle of your dart legs at the side seam.
Draw a line between this marking and your apex. Mark your new dart point 1 1/2″ in from the apex. Draw your new dart legs out from this point to side seam dart leg points.
Fold your new dart up, with the excess being folded down towards the bottom of the dress. You will notice that the sideseam is no longer straight. You will want to straighten this out with a ruler.
Trim along the new side seam line and open your dart flat.
The last thing to do is adjust the hem. The bottom hem line may need to be smoothed out and you will need to adjust the width and shape of the front hem facing to match the dress front.
TRANSFERRING MARKINGS
If you made a lot of adjustments, it's always good to sew up a muslin before cutting into your nice fabric. Once you feel confident about the fit, lay your pattern pieces out on your fabric according to the layouts on your instructions. Cut all of your pieces out of your fabric and cut the interfacing yoke piece out of lightweight fusible interfacing. Now it's time to mark your pieces. There are lots of ways to do this, but I will show you a few of the ways I use.
CLIPPING
Because the seam allowance on the Colfax Dress is 1/2″, there is plenty of room to make small clips where needed for markings. It's amazing how fast and effective a simple little clip can be. The best place to do this is every time that you see a triangle marking within the seam allowances of the dress.
PENS
Another great way to transfer a marking is with a marking tool such as a chacco pen. Believe me, if you don't have one of these, invest in one. They are the best. It leaves a small line of chalk dust where ever you roll it and the chalk dust is easy to get rid of once you don't want it to be visible anymore. This is especially nice when you need to transfer a line such as the cutting line on the yoke and the legs of the darts.  A disappearing ink pen is also a good solution in these instances.
TAILOR'S TACK
One last way that I often mark things is with a tailor's tack. It's especially useful when the marking is in the center of the pattern piece and in a very visible area. The tailor's tack won't run you the risk of leaving a mark behind and is very accurate. To make a tailor's tack, thread a sewing needle with a long piece of thread. Sew it through your desired spot a few times leaving long (about 2-3″) loops between each stitch.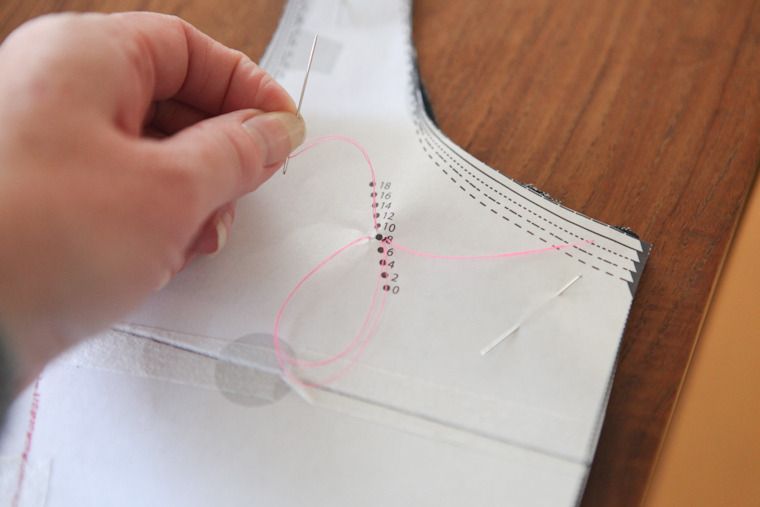 Cut each loop so you are left with a few long threads at each marking.
If your fabric is doubled up you will want to carefully pull them apart and snip between the layers so there are tacks on both sides.
Now that all of our pattern pieces are adjusted, cut out, and marked we can start sewing tomorrow. I know that today was a bit of a long post, but doing all of the prep work will pay off when we are sewing the next few days.
You can purchase the Colfax dress if you want to sew along here. Also, don't forget to enter the Colfax Dress Sewalong with prizes from My Fabric Designs. More details about that here.