I am so excited to start the Colfax Dress Sewalong today. It is going to be a pretty easy day of prep where we will print out the pattern, assemble it, and then choose our size. Let's get started!
PRINTING YOUR PATTERN
After purchasing your Colfax dress you will receive an email with a link to download your pattern. Make sure that you are not downloading it on a phone or ipad as they have a hard time supporting the zip file. Download it instead on a computer. Once downloaded you will need to unzip or uncompress the file. Once it is unzipped you will find three files – the PDF pattern, the copyshop pattern, and the instructions. If you don't want to go through the trouble of assembling the pattern at home (which I totally understand), you can always take the copyshop pattern to a printshop such as Kinkos or Staples and have them print it on one large sheet. Just make sure that you measure the 2 by 2 inch square at the top left hand corner to make sure that it has printed to the correct size.
If you are good to print your pattern at home, you can follow the next steps.
First, open your print at home pdf pattern in Adobe Reader or a compatible software. Set up your printer to print at 100% with all scaling turned off.
Print just the first page and measure the 2″x 2″ square to make sure that it printed accurately and to scale. I highly recommend not printing in draft mode to save ink. If you print in a higher quality mode,then your printer goes slower and is more accurate. Your borders will be more consistent and the pattern will assemble more accurately.
If all looks good then go ahead and print the rest of your pattern.
ASSEMBLING YOUR PATTERN
There are lots of ways to assemble pdf patterns, but I will show you how I do it. I have learned to love assembling patterns. Mostly because it is pretty mindless and I can do it in front of the TV. Once you get the hang of it, it's really not bad.
First, I cut off the top and right side borders of all 24 pieces. You can either use scissors and do it one page at a time like you see below,
or you can use a paper cutter and cut a few pages at a time to make it go faster. This is the method I prefer.
Once the top and right borders are cut off of all pages you can start to tape them together. Any kind of tape will do, although medical tape or masking tape is what I prefer so you can iron over it later if you need to flatten out your pattern for future use.
Tape together a whole row (6 pages).
Tape together another row and tape it to the first one. Continue until your entire pattern is assembled. It should look like this. Don't worry if the pattern gets off by a small amount as you go. It's inevitable. Just readjust as much as you can and realize that 1/16″ is not going to make any difference in the fit of your final garment.
CHOOSING YOUR SIZE
My other patterns have been a looser fit and were therefore much more forgiving when it comes to choosing your size. The Colfax Dress has a fitted chest and so I highly recommend choosing your size according to the chart below. The dress is drafted for a C cup. If you are a D cup or larger, I would choose your size according to your high bust measurement and do an FBA (more details on that in tomorrow's post).
Because the dress is A-line in shape, you don't need to focus much on the waist measurement. Focus mostly on the chest and hip measurements to choose your size. If they fall in two separate sizes then you can cut one size for the chest and then grade gradually to another size in the hips.
Once you have chosen your size, check the size key on page 24 of your pattern and cut out all pieces accordingly.
Cut out all of your pattern pieces like the image below. Note that if you are sewing View A then you will not be needing piece 5, the pocket.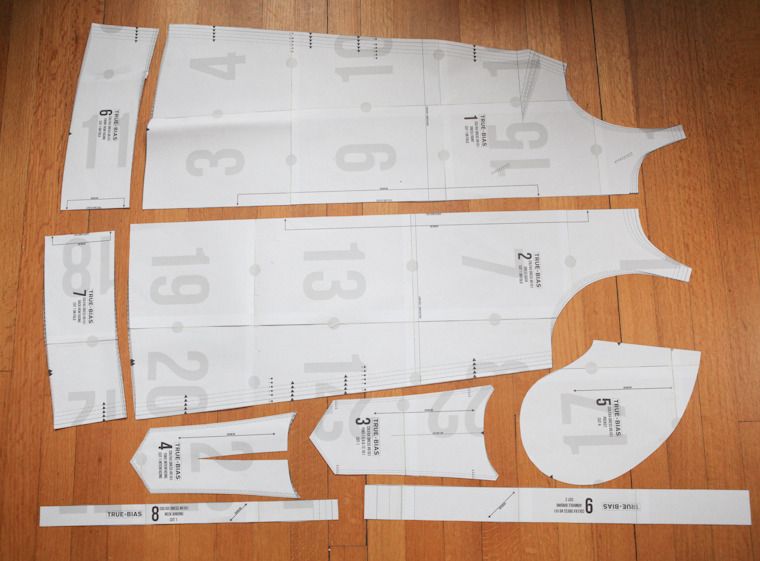 Tomorrow we will talk about some common adjustments that you may want to make to the fit of your pattern including a full bust adjustment and adjusting the length. We will also cut out and mark our fabric. Make sure that you wash and dry your fabric according to it's instructions so that it is preshrunk and ready to go before tomorrow. You may also want to iron it if necessary.
Just a reminder that if you want to participate in the Colfax Sewalong and / or  Colfax Contest then you can purchase the pattern right now at a discount with the code COLFAXCONTEST.
See you tomorrow. I can't wait to work with actual fabric.