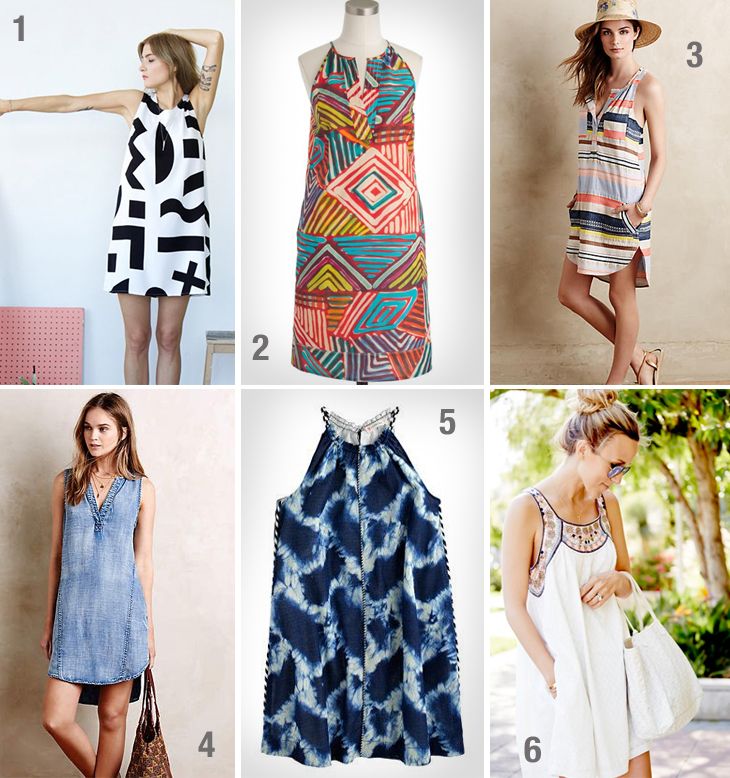 With the Colfax Sewalong coming up next week, I thought it would be fun to gather up some ready-to-wear inspiration to get your ideas flowing. The Colfax dress has a lot of options for customization and I can't wait to see what you all come up with. I love all of the dresses above, but I am especially obsessed with the shibori one. And I love how they used a small stripe for the contrast. I can also see myself living in a sunbleached chambray like number 4. So easy to dress up or down. And you know that I love black and white, so number 1 has me smitten with it's oversized graphic print.
I found so much inspiration that I couldn't keep it to just 6 so here are some more. I have a black washed silk version on my mind just like number one. So classy and easy wear. I think I would pair it with some gladiator sandals and wear it everyday this summer. I am also on the lookout for for the perfect lightweight linen or gauze for a beach coverup version like number 6. Wouldn't it be fun to sew it up in view B and change the direction of the stripes for the hem facing and yoke?
Well, I hope this gave you all some ideas. I can't wait to see what you are making. Just a reminder that the Colfax Dress is 25% off through the end of the contest April 29th. For details on the contest click here and be sure to check back in a couple of days for lots of fabric inspiration.