I love that the idea of designing and printing your own fabric is becoming more and more accessible to home sewers. I think that there is such a hole in the market for modern, graphic, apparel fabric. It always has baffled me that I could go into a huge fabric store in NYC and still have such a hard time finding modern, on trend fabrics. There seems to be a huge disconnect between ready to wear fabric designs and what home sewers have access to which is really frustrating to me.
OK, rant over. Am I the only one that feels this way?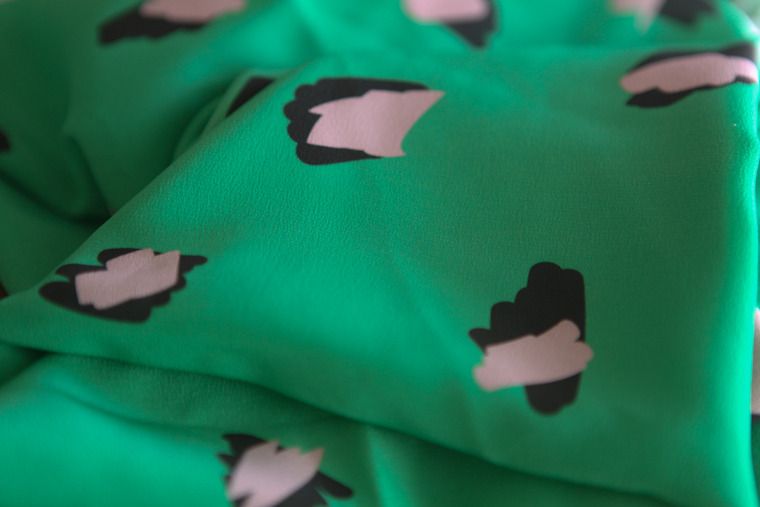 That's why I was so excited to hear about another design and print your own fabric company coming on the scene. When My Fabric Designs asked me to try out their services I seriously jumped at the chance. I dream of large scale graphic patterned fabrics that I never seem to find. What I would design was pretty much all I could think about for the next week.
I ended up putting together a very simple green, black, and pale pink abstract design. I designed it in illustrator in just a few minutes, the harder part was learning how to make a repeat pattern. I am still learning all the ins and outs of this but it's really fun and rewarding to figure out. Also, youtube is a lifesaver when trying to learn this kind of thing. I received the fabric a couple weeks later and it was perfect! The colors were exactly like I had prepared and the silk crepe was soft and flowy. I am so happy with how it turned out!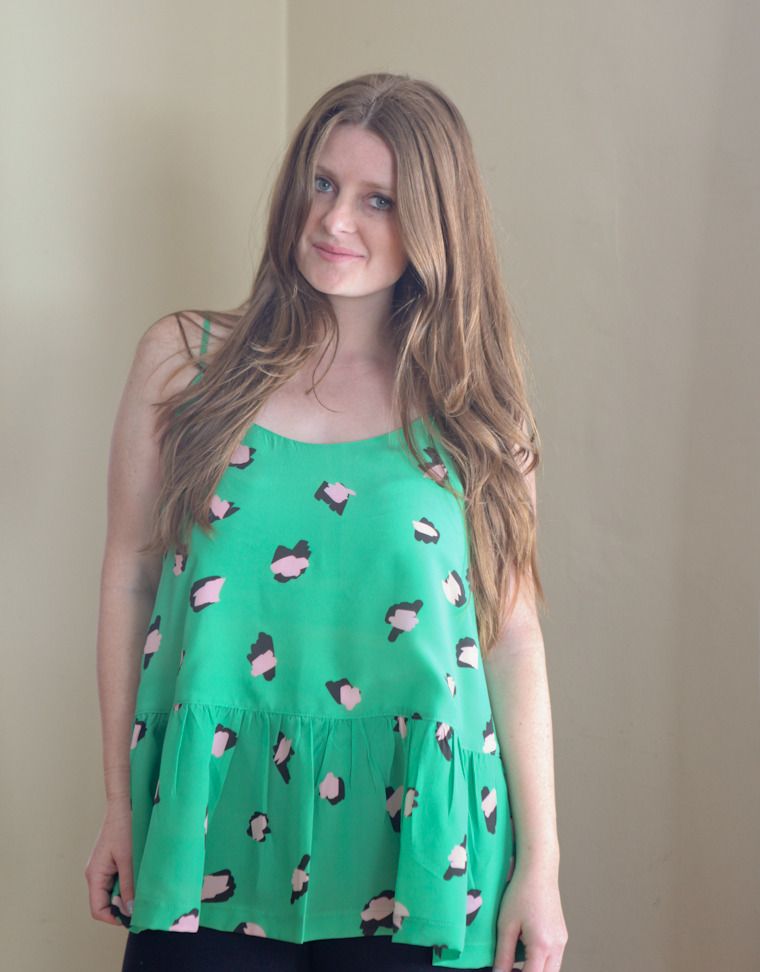 I only ordered two yards of the fabric so I knew a top or blouse was probably in order. While trying to decide, Caroline of Blackbird fabrics posted this amazing tutorial on the Sewaholic blog for hacking the saltspring dress into a ruffle cami. I loved it right away and it seemed perfect for this flowy fabric.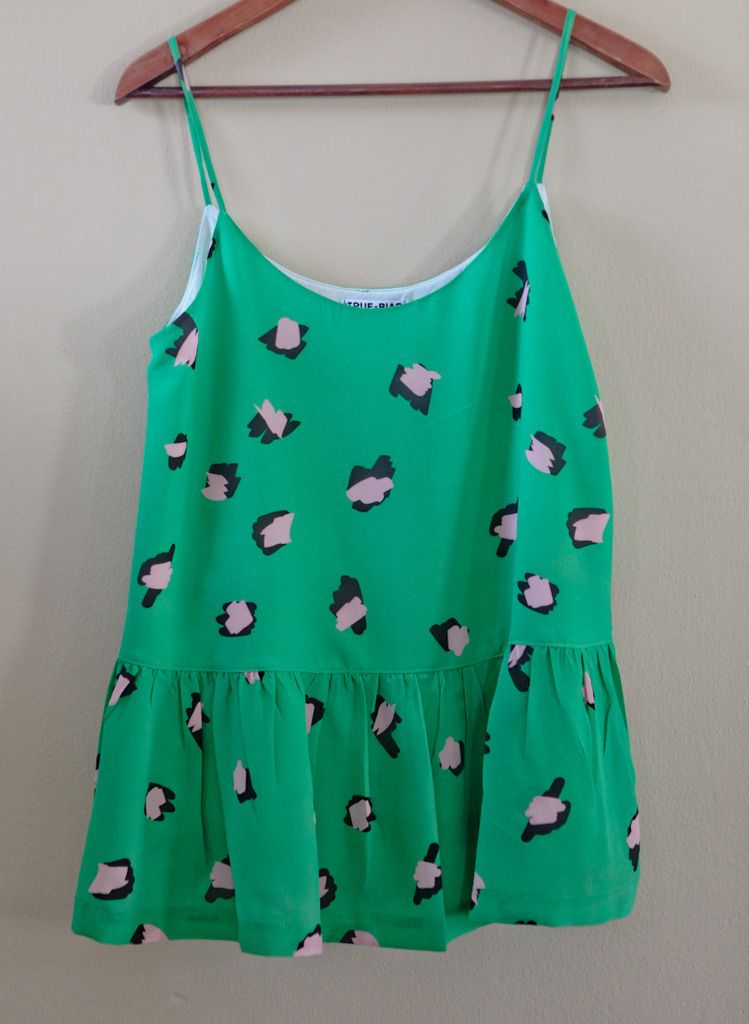 I followed Caroline's tutorial almost exactly including the full bust adjustment and single strap. The only change I made was to line the entire bodice instead of doing facings. The silk was the tiniest bit see through so I chose to line the top section with some white rayon challis that I had in my stash.  I didn't feel like I needed to line the ruffle so I left that as is. I love the cami so much. Perfect for layering with a jean jacket in spring. I want to make a few more now. I love Caroline's chambray one and I think a white one would get so much wear in the summertime. I havn't actually worn this out of the house yet because we just had a blizzard, but I'm excited to see how the fabric wears and washes over time.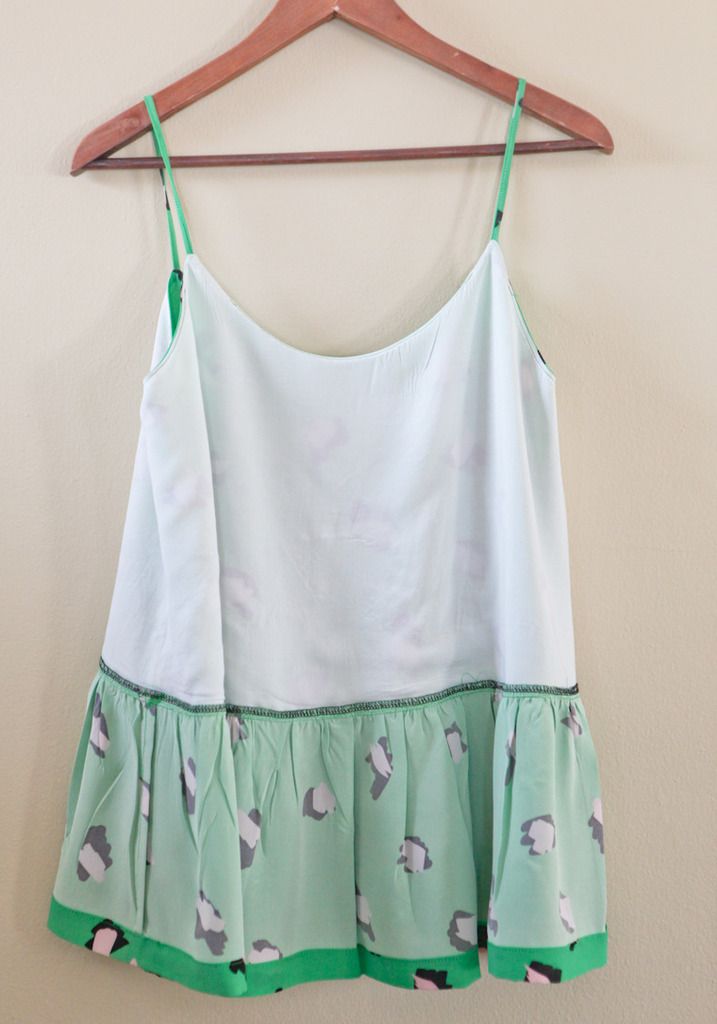 My Fabric Designs has generously offered to give one reader a $35 gift code to try out their fabrics. You can either design your own pattern and upload it, or choose from one previously designed including the one I made for this top. To enter the giveaway, simply add a comment to this post telling me your favorite color (just for fun). I will choose a winner randomly and announce the winner this Sunday evening. Good luck!
Comments for this post / giveaway have been closed. The winner of the My Fabric Designs prize is Aleah of No Time to Sew  (Who's favorite color is yellow by the way).