Guys, I have been in such a blogging funk lately.  I blame it on a few things including being waist deep in my next pattern, some extra pounds to the mid section left over from the holidays, and getting stuck on some difficult sewing projects, but mostly on this blasted winter.  It is just too cold outside and so weekend after weekend it's just been too cold to get all dressed up and schlep my kids and gear out for a photoshoot.  I am just over it. Yesterday I had finally reached my limit so I did some rearranging in the apartment until I found a spot that I can use for some indoor photoshoots.  It's not glamorous, but it's warm, and its practical, and it means I can actually start posting again.  Expect to see this wall a lot in the next couple of months.  Sorry in advance.
Now onto happier things.  I participated in the Linden Swap put on by Carrie of Oh, She Dabbles and Ingrid of We The Sewing.  It was such a great idea.  The Linden is a super fast make, easy to fit, and most of us have enough leftovers in our stash to make it up.  I have made 6 Lindens so far and can say that I am certainly a fan.
When I heard about the swap I knew immediately who I wanted to pair up with – Beth of Sew DIY.  I am a little obsessed with her style and cool haircut.  She makes it look so effortless.  Not to mention her beautiful photography.  Also guys, she just released her first pattern – The Lou Box Top.  It's one of those effortlessly cool boxy tops that pairs perfect with skinnies.  I'm pretty sure I will be making a bunch of these this summer.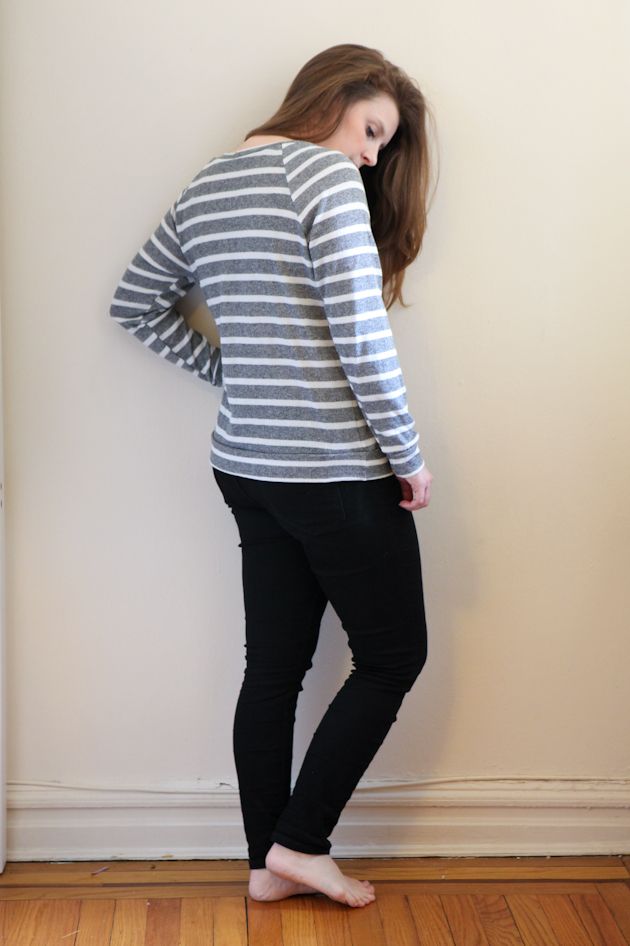 I knew I would love anything Beth made for me and I was not disappointed.  She made me up a Linden in a beautifully soft french terry knit with neutral stripes.  One of the things that I like the most about this version is it is much lighter weight than anything I have made myself.  It hugs the body better and drapes nicer than any of my own versions.  For some reason I just never thought of making one in a fabric like this.  I guess that's one of the great things about a swap!  I just love it.
For Beth's version I used some amazing quilted fabric from blackbird fabrics for the main panel and then some organic sweatshirt fleece from fabric.com for the sleeves.  The cuffs and waistband are just a black cotton ribbing (which I am going through like crazy these days – who knew I needed to keep this stuff on hand all of the time).  And because I am a selfish sewer at heart I made myself a matching version too 🙂  I couldn't resist.  I just checked Blackbird's site and they seem to be out of both the white and gray quilted fabric.  Too bad because it's really nice and soft.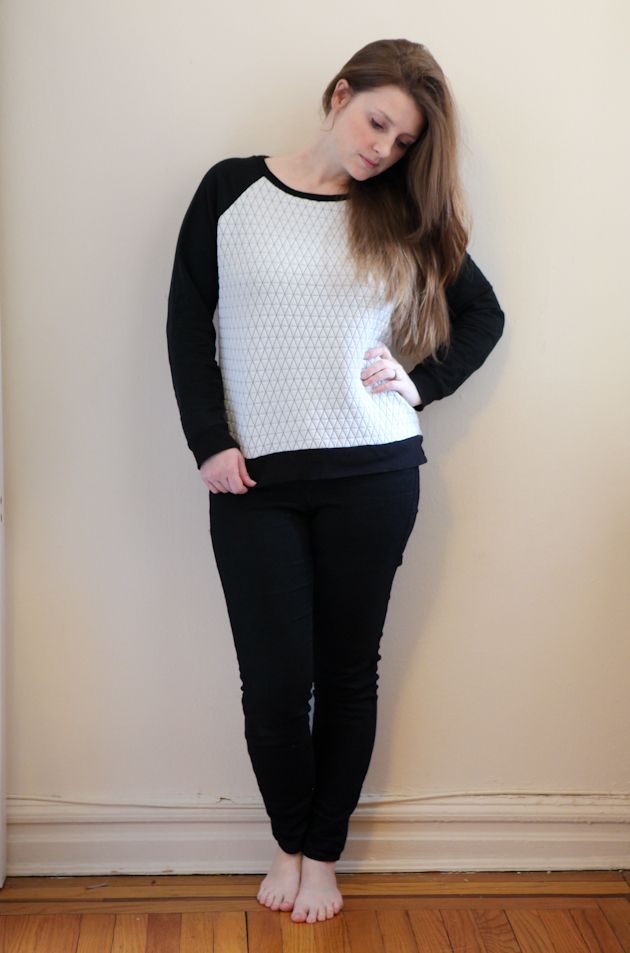 Be sure to check out Beth wearing her Linden sweatshirt and I think you may still have time to participate in the swap too if you want.  Details here.