I am blessed to have some really amazing testers.  I love seeing what others create with my patterns and find it so inspiring.  I thought that it would be fun to share some Sutton Blouse creations from a few of my testers along with their thoughts.
Caroline from Sewaholic / Blackbird Fabrics
"The Sutton Blouse is such a versatile pattern! I love the loose fit and yoke detail. It can be dressed up tucked into a pencil skirt, or casual and comfortable paired with jeans and loafers. The yoke gives you the opportunity to play with sheerness or color blocking!" – Caroline
Meghan from Made By Meg
"I love sewing with light and drapey fabrics, but the rayon challis I used had a horrible tendency to wrinkle. Next time I'm going to try this in a silk or poly blend!" – Meg
Heather of Where Heather Grows
"I am really loving this blouse. It's so easy to throw on with jeans, and it's nicer than a plain old t-shirt. It also goes really nice with a big chunky cardigan over top, and I'm wondering how it might look over top of something long-sleeved, but I haven't tried it yet. I love how it's loose but also how it curves in at the sides to flatter my shape. And I am totally digging the length of the kimono sleeves." – Heather
Carrie from Carrie in Stitches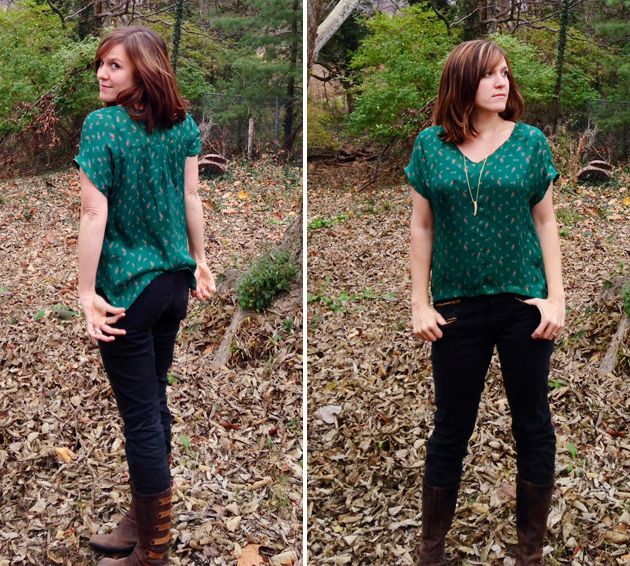 "I really love the modern clean shape and easy lines of this blouse. I gave myself a little challenge and sewed it using silk chiffon. It was my first time using such a tricky fabric but I love the finished product and think it is the perfect pattern for shifty silk. Love love love!" – Carrie
Man I love these ladies!  So much talent.
*The above versions of the Sutton Blouse were sewn up during the testing phase and the current pattern has a bit less ease in the width and the neckline has been raised by 1/4″.
I am currently working on a tunic length variation of the Sutton Blouse and will hopefully be able to share that with you guys soon!