I've been in a serious sewing funk lately. Pretty much every time that I start a project I begin to realize that the style is not working well with my current post partum body shape and so I get sidetracked and stop. Then I start a new project for my daughter and work on that instead.
I've been working on the following two projects for me for the past 2 months. They are going very slowly. I am just having a hard time getting excited about them.
First is the black jumpsuit.
I was SO excited about this project when I started. It seemed like that perfect mom outfit – comfy, but still on trend. But then as it started to near completion I had a major – "What was I thinking?" moment. I honestly just feel silly in it. I'm trying to figure out how to save it – Cut it off into a top? Cut it off into shorts? Still to be determined. The fabric is an amazingly soft bamboo knit that I don't want to have go to waste.
Next I am working on these pleated pants.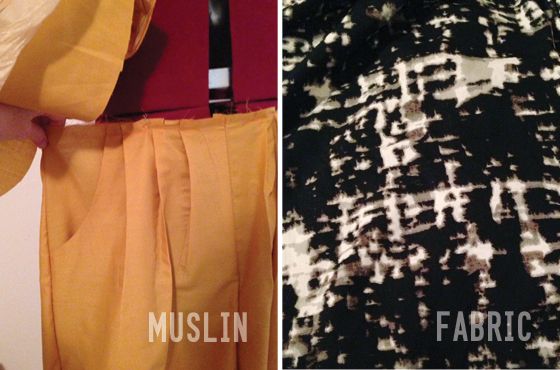 After I put together this Sewing On Trend post I became obsessed with finding the perfect pair. I found these pants online and fell in love (arn't they perfection?). Using McCalls 6514 as a very loose base pattern I have been trying to recreate them. It's been a long (and very boring) process. I am still in the muslin stage. Please send some serious sewing mojo my way to help me finish them up. I really think they will be cool once I do.