(Tried and True is a new series that I am starting here on True Bias. I will feature one sewer/blogger at a time who will share one of their "tried and true" patterns. You know, that pattern that just sews up like a dream, is so versatile, (although maybe even boring), so you end up sewing it up over and over in different ways. I know that I have patterns like that and I consider them gems so I can't wait to find out what the sewing community's tried and true patterns are.)
Hi I'm Sewphie, no wait, Sophie. Mama to two rambunctious little boys, sewer of three years (and counting) and blogger over at Cirque Du Bebe. And some tasty tid-bits that don't get a chance to be aired on the blog …before I was blogging, sewing and mothering, in another lifetime all together, I was personal training and snow-board instructing. Truth! But sewing and creating beautiful things with color and fabric is where my heart lies. I started out sewing for my boys, with barely a straight stitch to my name and a pipe dream of kicking butt at this sewing stuff… one day being good enough to create a hand-made wardrobe to rival anything store bought. In the beginning there was a lot of 'progress, not perfection' but stubbornness pays off, even if it makes you mad along the way. These days when I'm not scheming my hand-made wardrobe or stash-gazing, my talents are being put to good use building elaborate and structurally unsound lego cars!
When
Kelli
asked if I'd like to share a post for her
Tried and True series
I was super excited and faced with a conundrum. Of the patterns that I love, how many would I go back for seconds…and of those, how to choose just one favorite? The
Mission Maxi
was a strong contender as were a bunch of others that I can definitely see another version in the future…the
Jenny skirt
, the
Wiksten tank
and the
Miz Mozelle
, for a start. But it may come as no surprise (it didn't to me at least!) that the Megan Nielsen
Briar
came out on top. In my relatively brief foray into the sewing world, there's not too many patterns I can think of that make such a perfect base for pretty much any cute modification you could imagine…these are really just the tip of the Briar-burg!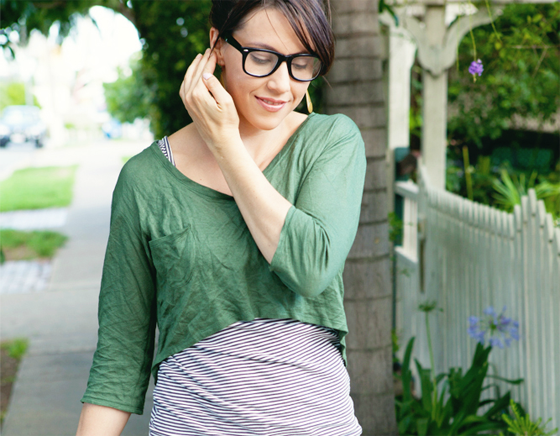 Fabric // A dirty moss metallic cotton knit.
Mods // I take my briar straight, thank you, on the rocks. At least the first one. It's the cropped version, with 3/4 sleeves + curved pocket and no mods! I was super impressed by the fit and the finishes and haven't taken it off since.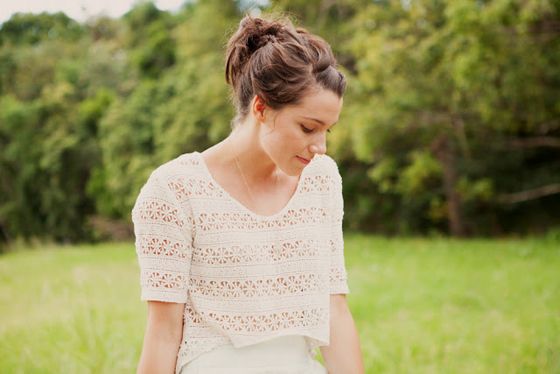 Fabric // Guipure lace
Mods // For this version I up-sized to accommodate the woven fabric and shortened the sleeves to above elbow. A summer-worthy pocket-less version with folded over hems and neckline.
Fabric // Cotton Jersey…tribal!
Mods // Another cropped version this time with flounce. I straightened out the curved front and the scoop at the back to be slightly shallower. Then for a hint of peplum, I drafted two very rough semi circles onto the fabric as you would for a circle skirt and attached them to the front and back pieces before sewing the side seams. There was going to be a pocket, but the machine had a taste for pockets that night and I think it's for the best. There's enough going on here already.
A super quick sew each time and three completely different tops at the end…it's like a choose your own adventure in a pattern! And why I can't help going back for more…the Briar is my #1 Tried and True pattern.
Thanks for having me!
A big thank you to Sophie for putting this together and being featured on my blog today. I absolutely LOVE her blog. She is adorable, has amazing style, and somehow finds the best fabric that ever exists. Make sure you check out her blog for more amazing projects. I just wish we could be friends in real life!