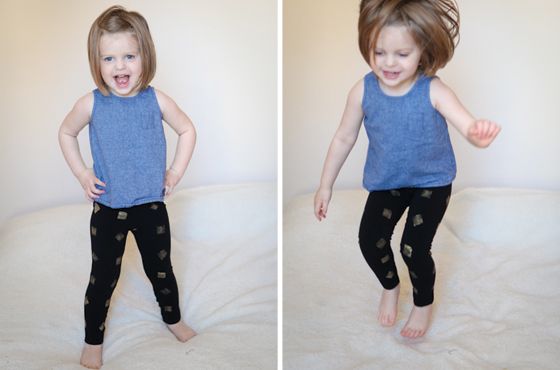 After having the baby I just wanted to burn all of my maternity clothing. I was so sick of looking at the same 2 shirts that I had worn day after day for the last 2 months. Luckily I thought twice about it and noticed that there was a lot of fabric there. I decided to do a little upcycling instead. I have noticed a lot of really fun and modern leggings out there and my t shirts contained just enough fabric to make some toddler sized ones for my daughter. I used this simple tutorial from Make it and Love it to make the leggings up and then stamped some fun shapes with fabric paint on them before sewing them together.
Here are some photos of the process:
I searched all around the house and finally just used a magic eraser sponge for the stamps. I cut it to the shapes I wanted (an x and a square) and then I glued it to the bottom of a paint tube which made it a lot easier to control. Other than that I just stamped it in a grid pattern (which I eyeballed). I wasn't worried if the paint covered the entire shape. I wanted that hand stamped feel.
In the end I think that they turned out pretty cool. And at no extra cost to me and about an hour of time, I am pretty happy with the finished product.