I have recently given in and bought some maternity jeans at H&M and of coarse my first thought as soon as I put them on was – Why did I wait so long? Unfortunately, like everything I buy ready to wear, they were way too long for my 5'3″ frame so I needed to hem them. And I took pics along the way to show you step by step how I did it.
Materials:
-sewing machine
-matching thread
-pins
-ruler
-marking tool (chalk)
-scissors
-iron
Before you start make sure that your jeans have been washed and dried on the highest heat. There is nothing worse than hemming your pants and then having them shrink later on.
Step 1
Try on your jeans right side out and fold them where you would like the hem to end. Put in a few pins to secure the fold.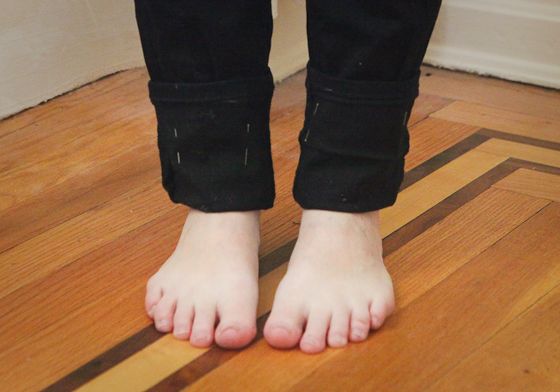 Step 2
Take off your jeans and measure from your fold to the original hem (mine was 3 1/2 inches). Make sure that both legs measure the same. If not adjust them so they do.
Step 3
Make a marking with your chalk or marker 1 1/8″ up from the fold line (the extra 1/8″ is to accomodate the turn of the fabric).
Step 4
Take out pins, unfold hem, and turn your pants inside out. Cut along your markings.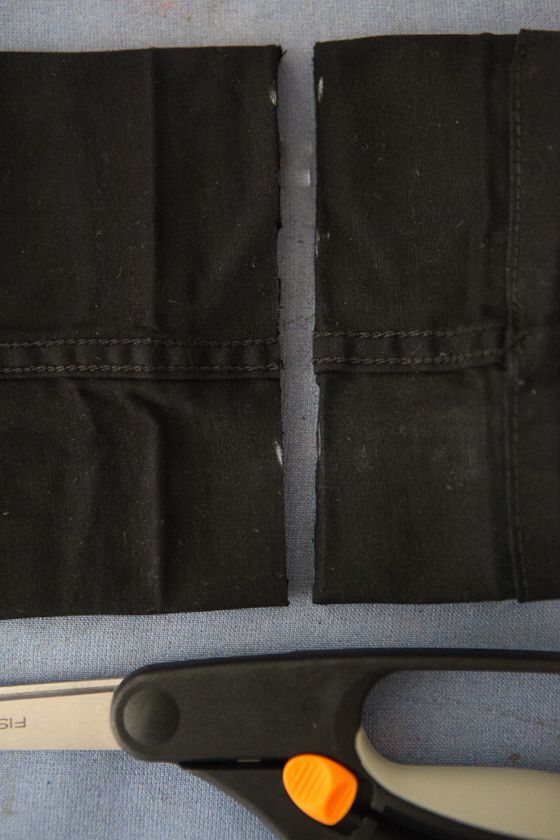 Step5
Fold up your hem by 1/2″ and press.
Step 6
Fold again, this time the width of the first fold, and press and pin.
Step 7
Turn your pants right side out. Lengthen your stitch length by a bit (I changed mine from 2.5 to 3) for topstitching. Stitch at 1/2″ backstitching at both ends.
Step8
Press and wear!
Here I am loving my new, perfect for me length, maternity jeans.
And just for fun a belly shot.