So I am going to do something that I have never done before – actually plan my sewing projects out beforehand in order to get the most wear and use out of what I sew. Here is my spring inspiration board. I am not going to try and copy these items, they are just the springboard for what I am going for.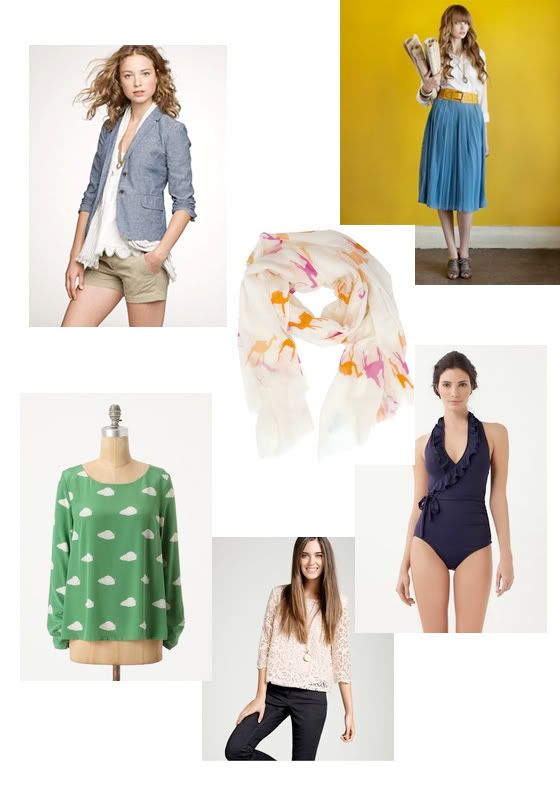 1 – Chambray Blazer – I just finished cutting out the fabric, so I will hopefully have something to show you soon.
2 – A Flowy Midi Skirt – I have been seeing these everywhere and love the flirty, summer feel to them.
3 – A Printed Summer Scarf – I really want to try my hand at fabric printing and I think this will be the perfect project for this.
4 – Easy To Wear Blouse – I am a mom, so I end up wearing skinny jeans and a shirt most days. I am always wishing that I had more easy to wear tops that are trendy, but still not uncomforable.
5 – Bathing Suit – I made my first two last summer and loved it. I can't wait to try it again and I am hoping to be able to do something like this awesome version from Anthropologie.
6 – A Lace Top – I love the vintage romance to lace, but wearing it in a top makes it so much more wearable and casual for me. Have you seen Grainline's version? I can't wait to try my own.
So what do you all think?
Can I made 6 garments in the three months of spring?
Do you plan out your sewing projects? And if so does it help you?